LIC talks to Marco Winters, head of animal genetics at AHDB, about the future of dairy cow breeding and how modern genetic indexes could help farmers face current and upcoming challenges.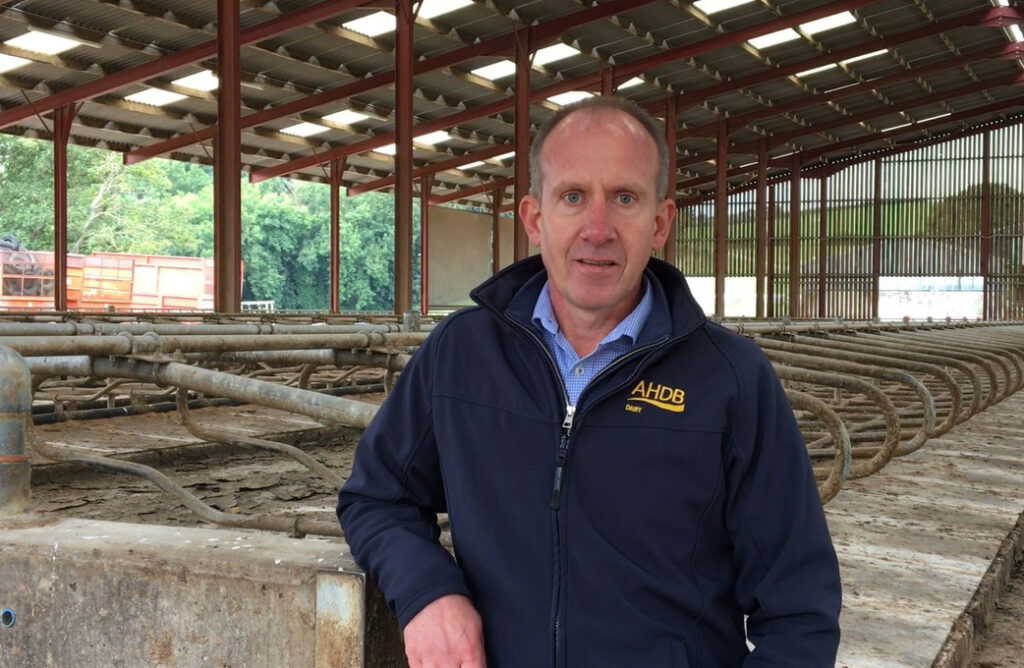 What do you see as the greatest challenges facing dairy farmers in the next 12 to 24 months and are you positive about the industry's future?
There are massive concerns on farmers' minds about the price of feed, fertiliser and fuel and additional uncertainty around milk price, environmental land management schemes and other external factors. But most of these are largely outside farmers' control and make it challenging to rein in costs of production.
As head of animal genetics for AHDB, my focus is always on how breeding can help offer solutions and I am confident that modern genetic indexes – such as those which will improve feed efficiency or reduce greenhouse gas emissions – can help in this endeavour.
Breeding will always be a long-term solution – unlike improvements to management which can yield a more instant response – but changes through breeding are cumulative and permanent, building up over generations.
I am very positive about the industry's future, and I am confident that breeding can help address some of the challenges in farming, as having the right cow to work with will help any farming business improve its long-term efficiency.
LIC's BW provides an accurate liveweight measurement per bull. You have recently been talking about the Maintenance Index being a key driver for reducing and monitoring liveweight. What's the base cow liveweight on the index currently and how much should it be reduced?
AHDB has published the Maintenance Index since 2014, and it is incorporated in all three of our selection indexes, £SCI [Spring Calving Index], £PLI [Profitable Lifetime Index], and £ACI [Autumn Calving Index].
Maintenance Index is derived from the linear type data which describes the body dimensions for stature, chest width, body depth and angularity. Research has shown these traits can predict liveweight with an accuracy of about 90 percent.
In the UK, we have to use these as proxy traits for the estimation of liveweight as we don't routinely measure cow weight in our industry.
The Maintenance Index is based on the average liveweight of cows born between the years 2014 and 2017, which is roughly equivalent to the average age of mature cows in the UK's milking herds. These base years are used as the average for all genetic traits, and that average is always expressed as zero. In other words, an animal scoring zero for any Predicted Transmitting Ability [PTA], whether for maintenance or any other trait, is average compared with cows in that age group.
We haven't set a hard target of what liveweight needs to be, but simply put a weighting on Maintenance Index, alongside other genetic traits, in the £PLI/£SCI/£ACI. This highlights that for any given performance – Production, Lifespan Index, Fertility Index and so on – it pays to have a smaller cow, rather than a big cow. With rising feed costs, cutting the cost of maintaining the cow has become even more important.
However, what we are seeing in the main dairy breeds is unfortunately an upward trend for Maintenance Index [see graph]. This is why we are actively highlighting the concern about this trend and asking farmers to consider this in their breeding strategies.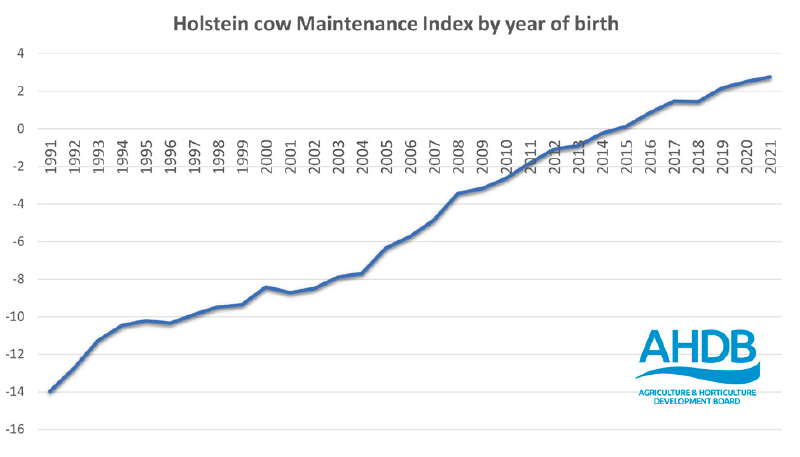 This may not apply to some herds milking a smaller stature New Zealand type crossbred, where cow size is under control and any further reduction could compromise the saleability of the bull calf into the beef market. If mature weights stand at around 450kg, it would be advisable not to breed cows any smaller.
Why do you see this as an important change and is this going to be a challenge for dairy producers - will they have to re-think their breeding policies?
This is important as we need to manage feed costs more carefully, and it also helps our carbon footprint, which we know is under scrutiny and needs to be reduced.
I don't believe this means farmers need to radically rethink their breeding strategies, especially if they are already using £PLI, £SCI or £ACI, all of which are balanced to address these concerns. If they believe their cows are too large and would like to focus on this trait, they can drill down into traits which make up the £PLI/£SCI/£ACI, including the Maintenance Index itself.
The most modern genetic indexes, including the EnviroCow, which was launched last year, will help them further. This index focusses solely on breeding cows for their environmental credentials. Alongside production and longevity, it also includes maintenance feed costs. For the Holstein, it additionally includes a prediction of feed efficiency [the Feed Advantage] within the index. This identifies bulls with the greatest tendency to transmit good feed conversion on to their daughters, indicating how many kilograms of dry matter intake can be saved in each lactation, for a given amount of milk production.
How much liveweight data is captured into the indexes currently and how will this alter?
We base our Maintenance Index on type classification rather than cow weight, and that is based on over 60,000 new classifications each year.
It would be ideal if we had liveweight measurements alongside this information, but there is no national liveweight recording in place.
What can farmers do to improve this?
We encourage farmers to take part in official milk recording as this will help them to benchmark their cows and their herd performance, and also contributes to the genetic evaluations of bulls and cows.
For farmers participating in ICAR-approved milk recording schemes, we would be keen to hear from those who have liveweight data, to see if we can build a picture.
What would you deem to be best practice for farmers to manage their liveweight and efficiency on farm?
Consider if your big cows really should be the dam of your future replacements and carefully look at which bulls you are using this mating season. Unless your cows are already small (ie. 450kg), avoid bulls with a high Maintenance Index.
How much physical difference will using a high or low Maintenance Index bull actually make?
The difference between a bull with -50kg and +50kg Maintenance Index is equivalent to 100kg liveweight in the progeny. So, choose bulls carefully!
Why do you think cows are getting bigger?
Historically, selection for milk production has contributed to the trend towards bigger cows as production was correlated with cow size. However, in the black and white breed, this was far more pronounced when the larger Holstein was used on the smaller British Friesian. There is far less of a correlation between size and production today.
In the present bull population, and with the wealth of different traits for which we calculate PTAs, you can easily select high production bulls that breed smaller daughters.
Furthermore, selecting bulls for Type Merit has also increased cow size, as historically stature was built into the index's formula. Today, some traits associated with size have been removed from the index – or even weighted negatively – but because of correlations between different type traits in the index, using Type Merit will continue to lead to an increase in cow size.
There's also a bit of human nature associated with this trend, with a historic tendency for producers to regard bigger cows as better. But today, most would agree that their biggest cows are their hardest to manage and more prone to injury, and many successful, commercial dairy producers are focussed on reversing this trend.
With the cost of production rising outside of farmers' control, breeding is one factor that you can control. Marco is confident that breeding the right cow will help any dairy farming business face the challenges of the future, such as feed costs and greenhouse gas emissions.
Read more on halting the trend toward bigger cows on the AHDB website.