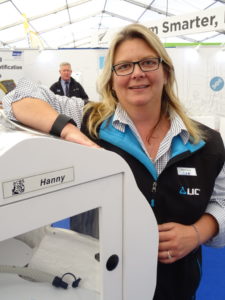 LIC's UK sales manager Sally Pocock is certain we all want to breed the very best cows, and talks us through a new LIC tool that can help make sure we do just that.
Having easy care cows that last in the herd, are healthy and hassle free, produce well and get in calf every year without intervention are key goals for any element of herd improvement.
I was once told 'It takes a very long time to breed out a poor decision at mating time.'
Herd improvement certainly takes time, the progeny from your breeding plan this autumn won't be realised until the autumn of 2022 when those cows come into milk.
So, getting it right first time round with sound and supported decision-making is very important.
How can LIC help with your herd improvement planning?
By keeping it simple and following the 3 Bs: Breed from the best and beef to the rest.
LIC has a fantastic new herd improvement tool available that produces a herd improvement report to help you make strategic breeding decisions to ensure continued herd improvement and profitability for your herd, generation after generation.
It's essential to have a clear idea of the type of cow you want to be milking at the start, and then to tailor your breeding plan to replicate this type of cow in your herd.
Every day across the UK, herd data and information is being recorded on farm and used in many different ways.
What are you doing with your data? LIC can bring your relevant data together into one report which can be used to provide a strategic breeding plan for you.
We'll utilise production information from milk recording to identify the animals that are producing and the maximum output for your milk contract. Their individual fertility, days in milk, health information and using liveweights will rank their efficiency in converting grass into milk and ensure that your most efficient and profitable cows are identified to produce your next generation replacements.
Our report will identify the cows that are best suited to your system and provide a recommended sire match to ensure your cow's traits are enhanced in their progeny.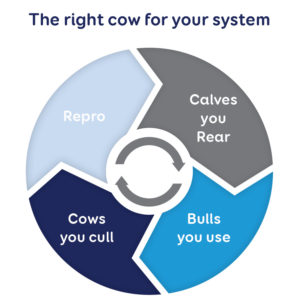 This may sound complicated, but rest assured it isn't. Our reports can be tailored to suit your specific requirements, from simply identifying the poorer performing cows for a beef breeding option to offering an in-depth report focused at individual cow level.
In order for herd improvement to work, you need to have established these fundamentals for identifying the right cow. (see graph).
Reproduction - Why this is important?
Reproduction is the method through which you generate your replacements providing greater choice and better quality stock.
There are many ways to measure repro success:
• 6 week in-calf rate (6WICR)
• 6 week calved rate
• Conception rates
• Empty rate
• Not in-calf rate
• Submission rates
• Straws to pregnancy
Whichever measure you're using to record this information be sure you review the data to improve your results year-on-year.
For both block and all-year-round, more cows that are in-calf early equals more days in milk and greater profitability.
In Issue 02 of Grass Roots we talk to a producer already using the herd improvement tool and look at the calves you rear, the cows you cull, and bulls you select.
Learn more about our herd improvement tool in September and see how it's helping one LIC customer improve his herd.
Please give the team at LIC a call on 01725 553008 to discuss how we can work with you on a plan to ensure your next generation of calves are securing your future profitability.